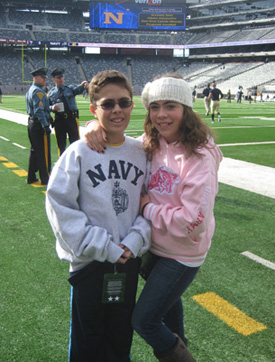 Toscana Cheese Charity: Cystic Fibrosis
Sean Squires is fourteen years old; he was diagnosed with Cystic Fibrosis (CF) when he was five years old. Cystic Fibrosis is a life-threatening disease that affects 30,000 children and young adults in the United States. This disease causes the body to produce abnormally thick, sticky mucus that clogs the lungs and interferes with digestion. Cystic Fibrosis is the number one genetic killer of children in the United States. Presently, there is no cure. Since Cystic Fibrosis is considered an "orphan disease" meaning it affects less than 200,000 people, the Cystic Fibrosis Foundation receives minimum federal funding. Therefore, most of the money raised and donated to find a cure is through friends, family and private donations. These donations are critical to funding the research which will hopefully find a cure. The foundations goal is for CF to stand for " Cure Found" for all the children and young adults that are afflicted with Cystic Fibrosis.
To learn more about Cystic Fibrosis (CF) and to make a donation visit their website at www.cff.org
All generous donations will give hope for dreams to come true.
Help us make CF stand for Cure Found!